| Item ID | Starting Bid | Bids | Current Bid |
| --- | --- | --- | --- |
| 20748 | $5.00 | 8 | $13.00 |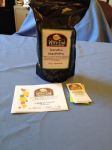 Just think of the caffinated fun you can have with this:
pound of SumatraMandheling whole bean coffee
$10 Gift Certificate to Wit's End Coffeehouse (expires May 2015)
I think that this auction listing would be more interesting if I were drinking the Sumantra Mandheling as I typed, but it is yours with a winning bid!
Days are chock full of stress. So when we discovered that a cup of coffee, a cinnamon scone and a smiling face can help erase the day's problems, we wanted to share that with others. And the more we've shared it, the more fun we've had.
We created Wit's End to be a place where we know your name and your favorites without making you bare your soul to a barista. But if you want to share something interesting of a more confidential nature, well, pull up a stool and let's talk…